"The Skin care make up" of Jane Iredale!
Basic Application
Get a personalized look to enhance your natural beauty.
30 Minutes $45
Special Occasion Application
Your beauty will shine with a natural or elegant look for your special occasion. For Mothers of the Bride and Groom, Bridesmaids, or any special event when you want to look your best.
45 Minutes $70
Bridal Makeup
Create the perfect look for your special day with makeup that enhances your beauty and photographs flawlessly. Includes a pre-wedding consultation and wedding day application.
Two Sessions: Consultation 60 Minutes,
Application 45 Minutes $130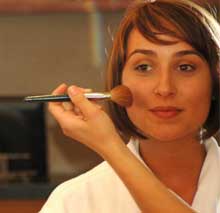 Make up
Jane Iredale mineral makeup, "the skin care makeup", uses quality formulas with skin care benefits. Using the highest quality ingredients available ensures satisfaction with performance, coverage, application and texture. Minerals conform to the most current technology that ensures broad spectrum sun protection. Attention to quality extends to the vitamins and antioxidants which are pharmaceutical grade and certified organic where available.